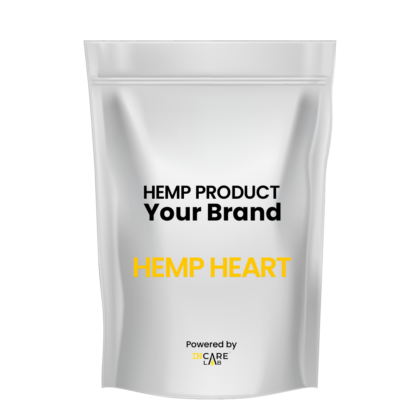 Hemp Hearts
HEMP HEARTS are shelled hemp seeds that are all-rounder dense with multiple nutrients such as protein, omega fatty acids, minerals, vitamins, antioxidants, iron, dietary fibers, and calcium. It helps boost energy levels, enhances muscle function, promotes weight loss & strengthens immunity.
Carefully selected and shelled Hemp seeds, born in the land of their origin - If you're looking for a quick fix of nutrition while you're on the go, then Hemp Hearts is your answer.
Nutrition-packed goodness of nature, our Hemp Hearts are sorted and shelled with care to bring out the nutty flavor that compliments all your dishes. Hemp hearts are one of the best plant-based sources of protein and omegas that are essential for your everyday nutritional needs.
Hemp Hearts, are shelf-ready product enabling you to have your brand in-store in the shortest time possible.
Formulation: Fixed as listed
Container: Client design
Label: Client design
Secondary Packaging: Client design
Testing & Certifications: Additional cost
Outer Packaging: Client design
Description
Formulation
Primary Packing
Label
Secondary Packaging
Other Services
OVERVIEW
Incare Lab is a Research & Development company licensed by the Department of Ayush to manufacture and sell Ayurvedic products like Hemp (CBD) Extract oil, Hemp seed oil, Medicinal Cannabis products, Hemp Topical Products, Hemp Skin care products, Hemp Oral Care, Hemp Pain Relief Products, Hemp Pet Products, Hemp Seed Powder, Hemp Hearts, Hemp Classical Medicine, etc. The Company makes high-quality products with all-natural principles. Our products are laboratory tested to ensure the end users have access to a standardized, safe, and consistent product. Our process starts from raw material procurement to the production of the final product. We take care of all the steps of production with accuracy and dedication. Incare Lab uses Therapeutic & Medicinal grade formulations developed and approved by a scientific board of Researchers, Ayurveda experts, Doctors, Pharmacists, and Biologists. Our Hemp based products are manufactured from naturally grown Cannabis landraces in the North Western & Eastern Himalayas region of India.
Naturally grown in India, Hemp Hearts is Shelled and carefully extracted from Natural Hemp seeds. It is a great source of high Omega 3-6-9 
PURE HEMP SEED POWDER | PACKED WITH ESSENTIAL AMINO ACIDS | RAW | COLD-PRESSED | NATURAL | HERBAL | VEGAN FRIENDLY
BENEFITS of HEMP SEED HEARTS:-
Enjoy 100% Shelled Hemp Hearts as the perfect supplement to balance your nutritional needs.
Plant-based Protein 
Stimulates a Healthy & Balanced Diet
Boosts Healthy Metabolism
Builds lean muscle growth
Boosts Energy & Stamina Levels
HOW TO USE HEMP HEARTS:
20g - 25g (1-2 tablespoons) per day.
Munch, garnish or mix with any kind of snack, meal, batter, or smoothie. Sprinkle as a garnish on your favorite foods or blend into your everyday meals and desserts for a boost of protein and omegas. Mix into your homemade dry fruit/trail mix as a crunchy and healthy snack.
Manufactured in pharmaceutical conditions (GMP)
Ministry of Ayush Approved Products
Made in India
Non-GMO
Certification of Analysis - (COA)
Full-spectrum & Broad-spectrum cannabinoids
Vegan-friendly
No artificial preservatives
Natural flavors
Manufacturer of Ayurvedic Hemp (Cannabis) based products
Exporter and Bulk Supplier
White Label and Private Label
B2B Supplier and Wholesale of Ayurveda Hemp Products
COMPOSITION (W/W):-
100% Shelled Hemp (Cannabis Sativa L.) Seeds.
Supplied in medical-grade Containers available in 100, 250, 500, 1000 grams containers or as required
You can provide your own completed label or we can take your design and source for you from one of our approved partners.
All label dimensions and regulatory requirements will be provided.
Provide your own completed package or we can take your design and source a solution for you from one of our approved partners.
All packaging dimensions and regulatory guidelines will be provided.
Incare Lab has extensive experience in the formulation, manufacture, and approval of Ayurvedic medicines, foods, cosmetics (Skincare), Pet Products, and Hemp-based products in India and internationally. Through our network of expert partners, we can provide our clients with the following additional services:
Quality Ingredient sourcing 
Ayurvedic Medicines Testing
Dermatological Testing
Ayush medicines documents approval
Bacteria Resistance Testing
Cosmetic Product Safety Report
Label Text Check and Correction
Clinical Trial study designing 
Formulation development
Research & Development
Hemp Manufacturing consultancy
Ayush Manufacturing consultancy
Hemp Cultivation consultancy
Hemp Equipments consultancy